(REVISED 3/7/16 to make clarifications on the "Superfood Salad with Lemon Vinaigrette" recipe).
Recently I discovered some new products at Walmart that are worth sharing!  Not all Walmarts carry the same items, so check with your local store.http://cydnotter.com/wp-admin/edit.php
Dave's Killer Bread:   This organic, non-GMO bread is hearty and delicious – and contains NO oil.  And when it comes to "Whole Grains", it meets the "Five to One" rule used to determine how "whole" your grains actually are!  I've seen it in two sizes (smaller vs larger slices);  it makes great sandwiches, toast, or a dipper to get the last bit of gravy or pasta sauce.  The only drawback is that it's a bit pricey – but worth it if you desire to eat a healthy bread on occasion.
Riced Cauliflower:   Here's a great way to get cruciferous veggies into your daily fare.  Riced Cauliflower can be used as a rice replacement for stir-frys,  stirred into soups, or used to make The Brand New Vegan's Meat mixture which can be used for sloppy joes, stuffed peppers, or wherever ground beef was typically used.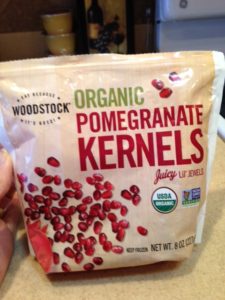 Frozen Organic Pomegranate Seeds:  A great item to have in the freezer for those 'once in a while' recipes that call for pomegranate seeds!  Add them to jazz up your oatmeal, tossed salads, fruit bowls, or dressings.
One of our favorite quinoa recipes calls for pomegranates –  It's called 'Superfood Salad with Lemon Vinaigrette', shown on the Iowa Girl Eats blog.   Here's the recipe.  (Just omit the oil shown in the dressing, and of course don't add the chicken or shrimp).  Thanks Teri, for sharing this recipe with us!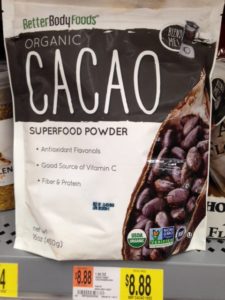 Organic Cacao:  This is the best price I've seen for organic cacao.  If you love chocolate as much as I do, organic cacao is a healthy way to consume it.  Use it in shakes, cakes, 'ice cream' toppings and more.  If a recipe calls for regular cocoa, you can easily replace it with raw cocao powder.
Here are just a few recipes that we can vouch for:
Chocolate Pumpkin Loaf – by Isa Chandra Moskowitz – YUM!
Adonis Cake – by Engine 2.  You can use the below CHOCOLATE FUNDUE for frosting as an option.
Chocolate Fundue – by Chef AJ.  Use as a dip, frosting, or to make frozen Nutty Buddies by cutting peeled bananas in two, inserting onto skewers, coat with fundue, roll in nuts and freeze.  SOOO good.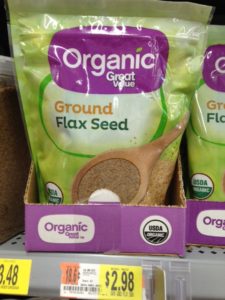 Organic Flax Seed:  Walmart carries organic flax seed in whole form or ground.  Flax seed has a ton of nutritional benefits, but the seed must be ground in order to get them all (read the blog post here).   It's most nutritious if you grind your own seeds just prior to use, but for those times when you need to add a quick two tablespoons to a recipe, you may choose to keep some pre-ground flax on hand.
Stir the ground seeds into your oatmeal, cereals, smoothies, or use in recipes as an egg replacer (one TBS flax seed plus 3 TBS water – blend in a blender until frothy = one egg).
Remember, do not use flaxseed OIL.  All the cancer-fighting nutrition has been stripped and you're consuming a dose of pure fat.
I've also tried the on-line Walmart grocery shopping tool and thought it worked well.  You select your grocery items on-line, specify if you'll accept substitutions, and indicate what time frame you'll pick up (they provide one-hour time slots).   Once you drive into the pick up area, they deliver the groceries to your car.  There's no extra fee and you're asked not to tip the delivery person.  Not all stores offer it, but if you're in a hurry and don't want to spend time in the store, this might be an option for you.  The biggest drawback is that not all of their items are shown on the website…..something they told me they're working on.
Happy shopping ~ feel free to share YOUR good finds!