(This recipe from Dr. Fuhrman is one of our favorites!)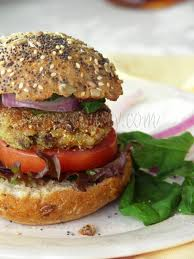 ½ cup uncooked wild rice, rinsed
1 cup red onions, finely chopped
1 cup celery, finely chopped
3 cloves garlic, minced
¼ tsp. basil
¼ tsp. parsley
¼ tsp. Mrs. Dash no-salt seasoning
½ cup raw almonds, lightly toasted
15-oz. white beans, rinsed and drained
100% whole grain bread crumbs or old fashioned oats if needed to adjust consistency
Combine rice in 2 cups water (or veg. broth) in saucepan. Bring to boil, reduce heat, cover and simmer 45 minutes or until rice is tender. Drain excess water.
While rice is cooking, water sauté onions, celery and garlic over low flame for 10 minutes or until tender. Stir frequently to prevent burning; cover sporadically to soften veggies but uncover to let water steam off. Stir in basil, parsley, and Mrs. Dash.
Finely chop almonds in food processor. Add beans and process again until beans are pureed and mixture is well combined. Place in a bowl and stir in wild rice and onion mixture.
Form into burgers. If mixture is too wet, a small amount of whole grain bread crumbs or oats may be added. Place burgers on baking sheet lined with parchment papers (or a silpat). Bake at 350 for 40 minutes, turning after 20 minutes.
NOTE: I make 'flat' burgers and cook longer than specified….we like our burgers well done.