Never have to worry about leftovers with this one…..It's a perfect basil without the dairy, cheese and oils! This pesto sauce can be used in pastas or other dishes as well.
Sauce: Basil Pesto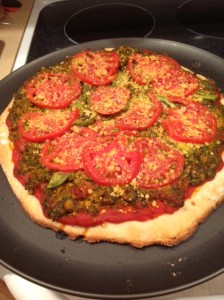 1 cup packed fresh basil
1 medium clove of garlic
1 TBS raw pine nuts
1 TBS fresh lemon juice
1 heaping TBS nutritional yeast
½ tsp. sea salt
Blend basil, garlic, water, lemon juice and salt in food processor. Add pine nuts and nutritional yeast and process again, being careful not to over process the nuts.
1 12" crust (preferably whole wheat)
½ cup basil pesto
1 ripe tomato, chopped
½ cup green pepper, chopped
1 2-oz. can black olives, chopped
½ small red onion, chopped
1 4-oz. artichokes, drained & sliced
Heat oven according to crust directions. Spread pesto on crust. Top with tomatos, peppers, olives, red onion, and artichoke hearts. Bake according to crust directions, or until brown and crisp.
(Note from Cyd: Don't spread the pesto too thick. I like to use a little more tomato too).