Launchers Needed! Please Consider Joining us!
I'm learning a lot about the book business these days. Months before a book is available online or in bookstores, it's crucial that authors "create a buzz" in order to promote the book's message and help raise awareness. That's where the Launch Team comes in!
The Launch Team is critical and plays an extremely important role in the book's initial "lift-off." Launchers read the book before anyone else, and agree to post an honest review on Amazon. Reviews DO make a difference and carry big weight. Amazon takes notice of books that are getting traction with reviews because they create momentum, increase traffic, and help improve the book's ranking on Amazon's site.
I'm looking for readers who:
Would be curious about the book if they noticed it online or in a bookstore.
Are open to learning about whole food, plant-based nutrition, and/or….
….or are interested in health improvement advice from either a scientific or Christian viewpoint.
Will commit to the Launch Team tasks shown below in the near future.
In exchange for a complimentary digital copy of the book, Launchers agree to:
Pre-read the book by the date specified (you'll have at least two weeks from the initial start date)
Write an honest review on Amazon or Barnes & Noble
Post at least one message on each of their social media pages (preferably with a link to my book page – I can provide that)
Share/discuss the book with friends and family (word of mouth)
Accomplish the above within a specified time frame (I'll keep the Team updated each week with friendly reminders).
Keep me informed of your progress along the way – especially with the reviews and posts.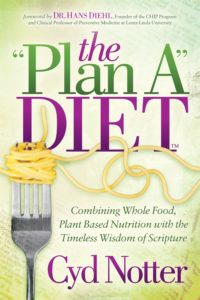 The probable time frame will take about a month, and I'll keep you posted with a weekly reminder.
– Initial book read (2 weeks)
– Post a review on Amazon and share on social media (1 week)
– Talk it up! (1 week)
If you have a spouse, significant other, or family member with separate Amazon and social media accounts, perhaps they'd like to be a Launcher, too! Family Launchers are welcome!
To learn more about the book itself, click here.
Your support in helping to LAUNCH this book would be bless my socks off and be truly appreciated!
As an added Bonus for signing up, I'll send you The 21-Day Meal Plan (with recipes) which was originally written for the book but had to be shortened due to space limitations.
(Of course, not all books are for everyone. Even the great classics draw criticism. If you sign up to be a Launcher but don't like the book, no worries. If you're uncomfortable posting a review, you're under no obligation to fulfill the requested tasks. But please do send me an email to let me know you're backing out and I'll stop sending you follow-up requests. Your honest feedback would be greatly appreciated and will help me in future projects.)
READY TO SIGN UP?
Simply send me an email at cydnotter@comcast.net and tell me why you'd like to be a Launcher! (Spots are limited).
(Some of you have already requested to be a Launcher, and if we've been in contact, there's no need to re-apply – Thank You!)
Let's do this! 🙂