These are easy and fabulous!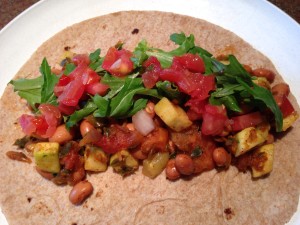 1 red onion, chopped
2 cloves garlic, chopped
1 green pablano chile, seeded and thinly sliced
1 medium tomato, chopped
2 cups chopped zucchini
3 cups cooked pinto beans (or 2 15-oz. cans, drained, rinsed)
1 TBS chili powder
1 tsp. cumin
2 TBS chopped cilantro
6 large whole grain tortillas (avoid hydrogenated oils)
Shredded lettuce
1 ripe avocado, sliced
1 cup salsa
Heat 1/8 cup water in large skillet. Add onion, garlic and chile and 'water saute' until tender, about 3 minutes. Add tomato and zucchini, continue cooking for an additional 5 minutes or until zucchini is soft. Add beans, chili powder and cumin. Stir to combine and cook 10 minutes.
Using potato masher or the back of a spoon, thoroughly mash beans. Stir in cilantro.
Spread bean mixture on tortillas, top with lettuce, avocado and salsa. Roll up and enjoy.
Bean mixture may also be served as a side dish or dip.