Healthy, delicious muffins with only 8 ingredients!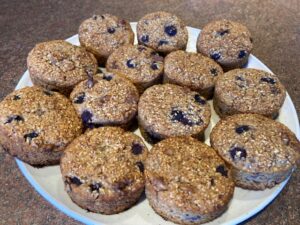 Blueberry Oat Bran Muffins
2 cups oat bran (uncooked)
1/4 cup dry sweetener *
2 tsp. aluminum-free baking powder
2 flax eggs (2 TBS ground flax seed + 6 TBS water, blend or whisk until frothy)
1 cup unsweetened plant milk
1/4 cup honey (could possibly use maple syrup, date syrup, or agave, but I've never tried it)
2 TBS unsweetened applesauce
Fresh or frozen blueberries (I use about 3/4 cup. Do as you please but don't overdo it)
Optional: Chopped walnuts
Instructions:
Preheat oven to 425. Line muffin pans with paper baking cups, or use silicone cupcake pans.
Combine all dry ingredients, and then add the remaining ingredients and mix well.
Fill muffin cups 3/4 full, and bake for approximately 15 minutes (maybe longer). You want them to be golden brown and firm to the touch.
(Makes about 14 muffins)
* For dry sweetener, I use Sucanat (SUgar CAne NATural). It can be hard to find locally but you can order it online. BUT, any unrefined cane sugar will work, which you can find almost anywhere. Avoid using brown sugar, which is basically white sugar mixed with molasses to make it brown.
NOTE: Between the dry sweetener and the liquid sweetener, I calculated that each muffin has about 1.5 teaspoons of added sugar. That's assuming you make 14 muffins. The blueberries are natural sugar (not added sugar), so they're fine. But if you want to cut back on the sweetness a bit, I suggest reducing both the dry sweetener and the liquid sweetener by about 2 teaspoons each.
Enjoy!
Jesus answered by quoting Deuteronomy: "It takes more than bread to stay alive.
It takes a steady stream of words from God's mouth." (Matthew 4:4, MSG)