Wondering what to do with all the zucchini in the garden?
This recipe for Zucchini Muffins will not disappoint!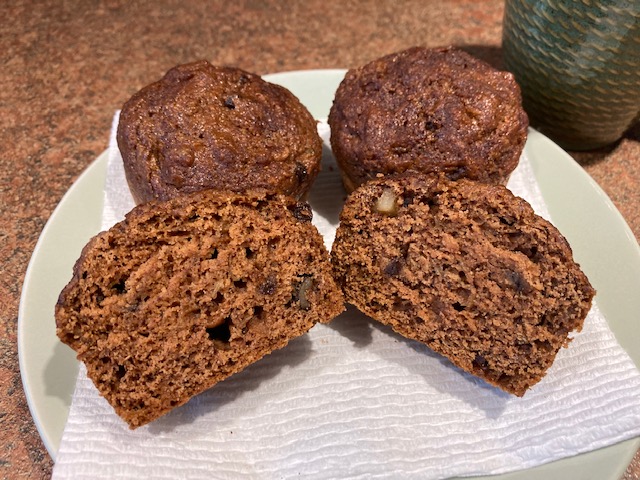 A friend brought these to a potluck years ago, and it soon became one of our favorite recipes.
For a printable download, click here. 
Zucchini Muffins 
2-1/3 cups grated zucchini
1-1/2 over-ripe bananas, mashed
1-1/4 cup unsweetened applesauce
1 cup unrefined cane sugar (turbinado or coconut sugar works)
1 TBS lemon juice
1.5 tsp vanilla extract
3 cups all-purpose flour *(see note)
1 TBS baking soda
1 TBS cinnamon
2 tsp. nutmeg
1 tsp. baking powder
1 tsp. salt
¼ tsp. ground cloves
Optional add-ins: chopped walnuts, currants, or raisins
FOR TOPPING:
1 TBS unrefined sugar
1 tsp cinnamon
Preheat oven to 350. Line 24 muffin cups with paper, or use silicone muffin tins.
Combine zucchini, bananas, applesauce, unrefined sugar, lemon juice, and vanilla extract together in a large bowl.
Whisk flour, baking soda, 1 TBS cinnamon, nutmeg, baking powder, salt, and cloves together in a bowl. Slowly add the flour mixture to the zucchini mixture, stirring until well combined.
OPTIONAL: I add chopped walnuts and dried currants.
Spoon batter into muffin cups. Mix the topping ingredients and sprinkle over muffins.
Bake 30 minutes or until firm. (Makes 20-24 regular-size muffins; can also make loaves.)
*I use either whole wheat OR whole wheat pastry flour; or sometimes a combo, depending on what I have on hand. Whole Wheat Pastry flour makes them lighter and fluffier.
Enjoy!!