The below story was reported in the Local Lit section of the Joliet Herald News in July 2019. What a blessing to be featured!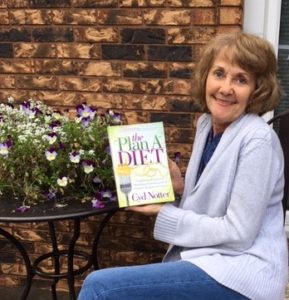 Today Cyd Notter, nutrition educator and writer, shares her food memories and the story behind her book.
If you grew up in a Westernized country such as the United States, you may have been raised on a diet where meat and potatoes were the typical dinner, salad consisted of iceberg lettuce with French or Italian dressing, and the ice cream truck was a normal part of life. I think about my own diet growing up.
My mom operated a pizza kitchen and made the dough, pizza sauce, and sometimes the sausage from scratch. When I accompanied her to work, she'd roll out a small piece of dough and allow me to add the sauce and toppings before she slid it into the two-rack commercial pizza oven. Shredded mozzarella, chopped onions, and sausage patties were my usual topping choices, with the crust baked to crispy perfection. Creating my own pizza in my mom's tiny pizza kitchen is a cherished memory I hold dear.
Foods at home included pork chops, fried chicken, baked hamburger 'boats' filled with cream of mushroom soup, fish sticks, home-made salami, grilled cheese, BLT's, bologna sandwiches, hot dogs, root beer floats, malted milk shakes, and a candy bar whenever I wanted one. I loved to eat the pure fat off the side of a steak. I recall drinking vinegar just because I liked it, and on some occasions, I would eat the dog's Milk-Bone biscuits to amuse my friends.
Occasionally we'd stop for a hamburger and fries at the local drive in. Microwaves weren't on the scene yet, but TV dinners in aluminum trays had been introduced and we ate those occasionally when mom was working late. Most meals were typically prepared on the stove—in butter.
On the plus side, my parents were avid gardeners which fortunately allowed us to enjoy fresh tomatoes, peppers, melons, and other produce. I believe my diet was typical of growing up in the '50's, '60's, and early '70's, and my recollections are not intended to reflect unfavorably on my folks in any way. They were loving, caring parents doing what they knew best to do. Our family conformed to the culture of that time.
Fast forward to 1988. My husband and I were invited to a vegetarian couple's home for dinner, and were asked ahead of time if we minded that our meal would consist of a meatless entree. We had no objections.
During dinner, they explained that their compassion for animals was the main reason for their eating style. Shortly thereafter, we too dipped our toes into the waters of vegetarianism, which meant we stopped eating any type of meat products; we did, however, continue to consume eggs, dairy, and highly processed items (Hostess Cupcakes, Pepsi, and frozen cheese pizzas).
We stuck with that lifestyle for a few years, and despite my dire family history of heart disease, stroke, cancer, and diabetes, we were not initially concerned about how food affected our health. We thought we were eating a healthy diet because we had given up meat; but there's no question now that we had it all wrong.
A few years later, I stumbled upon a wellness class being offered in the area. The four-week class, which was sponsored by Wellness Forum Health based in Ohio, seemed somewhat interesting and offered something fun to do with my girlfriends.
After all, I was already eating healthy (or so I thought), and I was betting this course would only reinforce what I already believed to be true. Little did I know the science-based teachings of that class would mark the beginning of a major turning point in my life.
Everything taught in that class rang true with me, especially the importance of basing health decisions on unbiased research that isn't funded by a food or drug company, or any group who stands to profit from the study results. I learned the true impact of the foods I had been eating, and realized they were the root cause of my elevating cholesterol, deteriorating bone health, and frequent winter illnesses (all of which reversed with diet change).
Also quite convincing was the research of many credible doctors and cardiologists who were using plant-based nutrition as a first line of treatment—not only for prevention, but for disease reversal.
My eyes were opened so profoundly that I was inspired to pursue nutritional training on both a personal and professional level. I became a certified instructor for the Wellness Forum and began offering many classes in my home and elsewhere in the community. I also went on to graduate from the Center of Nutrition Studies and became certified in several additional dietary therapy courses.
During the years of pursuing nutritional education, God was working in other areas of my life as well. He led me to become involved with the women's ministry at my church, where I served by facilitating weekly bible studies for many years. It was through those studies, combined with prior scripture research and listening to a daily bible reading, that I grew in my relationship with God and began to grasp His deep love for us.
Another way God was working behind the scenes was by giving me the opportunity to write a nutrition-based column for our local newspaper, which I did for seven years. Writing that column began to better my skills at sharing thoughts and information through the written word. I was grateful for the chance to share health-related information with the public, but looking back now, I see how that opportunity was also a steppingstone to later attracting a publisher.
All of these experiences—the nutrition training, the bible studies, and the column writing—eventually came to a head in an unexpected way. Writing a book to encourage Christians to eat better was never on my conscious radar; but one evening in 2013, the Lord very clearly laid it on my heart and flooded my mind with ideas so fast that I struggled to write them down. Biblical principles regarding culture conformance, reaping what we sow, and being good stewards (managers) of our bodies were just a few of the areas that came to mind in which our dietary choices matter. Plus I began to realize that by illustrating the correlation of those principles with today's unbiased research, readers would be provided a rather unique combination of both science and scripture.
Additional confirmations and motivations for the book came to light, including the sad reality that Christians fare no better than the general population when it comes to weight and health issues. I've witnessed many believers suffering needlessly, losing quality of life, and being forced to deal with the pain stemming from obesity and diet-related illnesses.
With a heavy heart I've watched the anguish family members must endure because of losing a loved one prematurely. Such somber realities have reminded me why God led me write the book—to provide a message of hope and to relieve suffering by encouraging people to choose a different path.
So with no previous desire to do so, and no knowledge of where to begin, I organized my chapter titles, signed up for online classes, and spent five years writing the book. God was patient with me along the way and blessed every step of the process. He's opened doors that I look back upon in amazement.
From doctors and health professionals who graciously endorsed the book, to local clients who wrote testimonials, to high-profile chefs who allowed me the use of their recipes, and to being offered a contract at my first Christian Writer's Conference in June 2018. My mission to educate and encourage those suffering with declining health and weight issues continues, as He's called me to do and for His glory.
Cyd Notter is a graduate of the Center for Nutrition Studies, a certified instructor for several dietary therapy courses, a past newspaper columnist, and the founder of The "Plan A" Diet. She offers a variety of health and cooking classes, provides nutritional coaching on both individual and corporate levels, speaks to local groups, and has worked with school district and fitness center employees.
Cyd has developed a "Wonderfully Made" ministry to encourage and equip Christians to take an active role in their health. She and her husband live in Illinois, where they enjoy outdoor activities, classic movies, and old Volkswagens.
Book title: The "Plan A" Diet: Combining Whole Food, Plant-Based Nutrition with the Timeless Wisdom of Scripture. Available through Amazon, and Barnes and Noble, and wherever books are sold. Signed copies available on this website. 
For more information, visit cydnotter.com.
(Note regarding submissions to the Joliet Herald: Each week LocalLit will deliver an original short and family-friendly story by a local author – or a review of a book written by a local author – to the newsletter's subscribers. Authors with a connection to our readership area may submit. Submission does not guarantee acceptance. To submit a story or book for review to the Joliet Herald News, contact Denise M. Baran-Unland at 815-280-4122 or [email protected]. To sign up for their newsletter, visit theherald-news.com/newsletter/locallit/#//. )