The "Plan A" Diet: Combining Whole Food, Plant Based Nutrition with the Timeless Wisdom of Scripture

2020 Book Excellence Award Winner!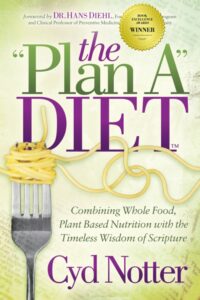 (Scroll down to order)
Finally, a gimmick-free plan for those who are nutritionally confused, suffer with declining health, or flit from one failed diet plan to another. The "Plan A" Diet provides readers with effective, proven strategies to achieve normal weight and regain lost health – without relying on calorie counting, food restriction, or willpower.
Combining her decades-long study of both nutrition and scripture, Cyd Notter founded The "Plan A" Diet to illustrate the correlations between biblical principles and healthy eating, and to encourage readers to take an active role in their health.
She demonstrates that a whole food, plant-based diet is not only the optimal strategy for dealing with today's weight problems and chronic ailments, it's proven to be the only diet capable of reversing our #1 killer, heart disease.
Readers are also provided with:
Useful insights for dealing with resistance to change
Delicious remakes of comfort foods, such as pasta, burgers, and brownies
A 7-day Meal Plan, plus an optional 5-week Transition Plan
Tips for evaluating conflicting dietary information
Prayer, scripture references, and biblical encouragement
Discussion questions for personal reflection or group study
Today's unbiased research continually confirms that God's first prescribed diet for mankind – His "Plan A" Diet – remains the ideal food to this day.
By choosing this plan for health reasons, you'll reap the incredible benefits that come from living in harmony with your design: permanent weight loss, improved mobility, and clearer thinking, just to name a few.
Chapter Titles:
Introduction
Chapter 1: The "Plan A" Diet
Chapter 2: Addressing Objections
Chapter 3: Be a Non-conformist
Chapter 4: Exploring the Bottom Line
Chapter 5: Plant Your Best Crops
Chapter 6: How to Manage a Temple
Chapter 7: Hooked on Sweets, Treats, and Other Cheats
Chapter 8: The 12 Barriers to Change
Chapter 9: The Dreaded "G" Word
Chapter 10: Deceptive Foods
Chapter 11: FAQs
Chapter 12: Foods For the Plan
Chapter 13: The Plan B Transition Approach
Chapter 14: The 7-day Meal Plan
Chapter 15: Final Thoughts: Life is Short
What's Next
Resources
About the Author-
Two ways to order:
(1) Click the below "Buy Now" button  (get a signed copy, if you wish!)
Special Website price: $12.00 – With FREE Shipping in the domestic US!*
~ OR ~
                                  (2) Order from Amazon, Barnes & Noble, Books a Million, or other online retailers
*Purchases made through this website can only ship to mailing addresses within the domestic United States. International orders may be placed through Amazon, Barnes & Noble, Books a Million and other retail outlets.
(Please Contact me for bulk pricing/shipping)
Note: By ordering through this website, you'll also receive a weekly email filled with helpful articles, recipes, encouraging words, and jokes! – delivered right to your inbox. But no worries, you can unsubscribe at any time.
What Others are Saying….
"…The book not only reviews the scientific evidence for the reversal of many chronic diseases but combines it with biblical teaching, making it a rare blend in today's market. May this book have a wide distribution. I am so glad that someone at last wrote it. And did it so exceedingly well! Five stars!"
~Foreword by Dr. Hans Diehl, Founder of the CHIP Program and Clinical Professor of Preventive Medicine at Loma Linda University.
Endorsements:
"I am a devout Christian and a staunch advocate of a whole-food, plant-based diet. I have read many great books on faith and Christianity. I have also read many great books on how and why to eat a whole-food, plant-based diet. The "Plan A" Diet" is one of the rare books that combines both subjects, and does so seamlessly and beautifully. Regardless of your religious background, you will learn a lot from reading this book, but especially for the millions of Christians out there who see their faith and their diet as two completely separate spheres, PLEASE READ THIS BOOK! I am certain that doing so will transform you for the better."
~Anthony Lim, MD, JD
Medical Director, The McDougall Program
"The "Plan A" Diet by Cyd Notter is a valuable resource for those wanting to learn more about nutrition. As a cardiologist specializing in disease reversal, I plan on having my patients use this as a tool to improve health through better nutrition."
~James L. Marcum, MD, FACC, ACLM, Chattanooga Heart Institute. Speaker/Director of Heartwise Ministries, Author of The Ultimate Prescription, Medicines that Kill, and Biblical Prescriptions for Life
"Cyd Notter combines sound nutritional principles with a faith-based approach to healthy living and the result is a great blueprint for changing your life, and helping others to change theirs. This book provides food for the body and for the soul."
~Pamela A. Popper, Ph.D., N.D. Founder and President of Wellness Forum Health. Author of Food Over Medicine and Solving America's Healthcare Crisis
"The "Plan A" Diet is your ticket to a disease-free life! Cyd Notter gets right to the heart of the obesity and chronic disease epidemic currently sweeping our planet. This book will show you how to adopt a diet and lifestyle plan that actually works. Trade in your monthly trips to the pharmacy for a daily dose of delicious, mouthwatering food aimed to rid your body of debilitating, chronic disease(s) and those unwanted pounds. Read The "Plan A" Diet to find out how!"
~Dustin Rudolph, PharmD, BCPS, Author of The Empty Medicine Cabinet
"What a wonderful way to bring our faith and the healing power of food together! God is interested in all parts of our lives. When we are sick and unhealthy, it hinders our ability to participate with God in the work He has for us. I am excited that The "Plan A" Diet is a book that focuses on a Christian audience and can help guide the people of faith to regain their health and purpose."
~Terri Edwards, EatPlant-Based.com. Licensed Food for Life Instructor, Physicians Committee for Responsible Medicine
"Let Cyd open your eyes with this compelling manuscript expounding on the deeper importance of why seeking the best health possible has present day as well as eternal consequences. She has covered many ideas not yet explored in most Whole Food Plant-Based exposés. In 3 John 1 we are told: 'I wish above all things that thou mayest prosper and be in health even as thy soul prospers.'"
~Kathy Reynaert-Randall, CHIP Facilitator, Trainer & Area Developer
"As someone who has experienced firsthand the pitfalls of the standard American diet AND trendier high-protein diets, I can tell you they don't lead down a path of wholistic health. There IS a better way… God's way… the way He planned for us from the very beginning. This book perfectly communicates Cyd's wealth of knowledge and experience and boils down complex science and Scripture into easy-to-understand action steps. This book is incredibly thorough, yet completely practical. Read this book and change your life!"
~Amber Lauren, Fix Your Eyes on Him Biblical Health & Wholeness, Author of The Biblical Self-Care Workbook
Thanks so much for your support! It's very much appreciated 🙂