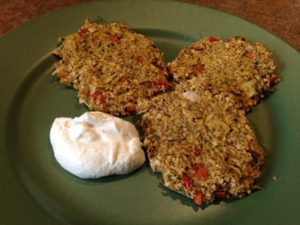 Do you ever feel like you're in a cooking rut? I do. And so last week I tried two new recipes. One was found on the Vegan 8 website called "Spicy Grilled Crab Patties with Aioli"  (although it's not a Vegan 8 creation – it's one that she tested from another chef; it has more than 8 ingredients, but it's still a fairly easy recipe).
This is the first time I've ever made "crab" patties, and I must say I was very happy with the results! The recipe has hot sauce and jalapeno but was still just right for my palate (I'm typically a sissy when it comes to hot spices). The patties are meant to be grilled, but you can also bake them as I chose to do. I ate two of them right out of the oven, and had to stop myself from eating a third!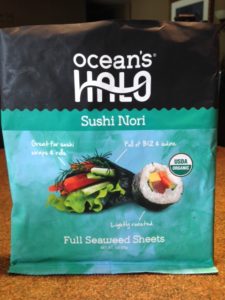 The aioli sauce is the perfect compliment, too. In fact, this thick sauce could be used as a sandwich topper for other patty or burger recipes as well.
Here are my notes and suggestions:
I made thirteen small to medium sized patties from this recipe
For "seaweed snacks", I used 1.25 full sheets of seaweed which I purchased at Walmart in the Asian section (see photo). Crumble the sheets up into your food processor before processing into small flakes.
This was the first time I'd ever used "Old Bay" seasoning. Here's a photo in case you go hunting for it.
Try to find whole-grain Panko breadcrumbs with minimum ingredients (and no oil).
Substitute water in the recipe wherever oil is called for.
This is definitely a "keeper" recipe which will probably be available for taste-testing at our next potluck!
PS: At the start, I mentioned that I tried TWO new recipes. The other recipe also turned out great, and I'll share that soon. If you're a fan of Italian Sausage, you'll want to stay tuned!
In the meantime, please let us know if you make the Crab Patties, if you made any substitutions, and what you thought!