The End of Overeating: Taking Control of the Insatiable American Appetite
Have you ever felt like you're under the spell of food, or you just can't seem to stop eating?
I just started reading a book titled The End of Overating: Taking Control of the Unsatiable American Appetite​ by David A. Kessler, M.D.
Kessler is a former FDA commissioner who led the battle against the tobacco industry. He's now exposing how the food industry has hijacked the brains of millions of Americans, resulting in our #1 public health issue.
A Lethal Combo of Palatable Ingredients
Dr. Kessler states that continued hypereating is a biological challenge, not a character flaw. And it all has to do with our three biggest food addictors – salt, sugar, and fat. Especially when they're combined and consumed as a trio.
These 'palatable' foods – all of which stimulate the appetite – are familiar territory for many of us because of Michael Moss' best selling book titled Salt, Sugar and Fat: How the Food Giants Hooked Us. 
I've only read the first four chapters of Dr. Kessler's book and I'm not sure where the book is headed as far as solutions go…so this isn't necessarily a book endorsement. But I was struck by the information he shared about restaurant food – where Americans spend 50% of today's food dollars.
An insider food consultant described how countless new foods have been introduced in restaurants, most of which hit all the three compass points. Sugar, fat, and salt are either loaded onto a core ingredient (such as meat, a vegetable, a potato, or bread), or layered on top of it, or both.
Examples of Food Layering
Examples provided in the book by the insider food consultant who wished to remain anonymous:
Potato skins: A potato is hollowed out, the skin (which is a substantial surface area for "fat pickup") is fried. Then some combination of bacon bits, sour cream, and cheese is added. The result is fat, on fat, on fat, on fat, much of which is loaded with salt.
Buffalo Wings – start with the fatty part of a chicken, which gets deep fried. Served with creamy or sweet dipping sauce that's heavily salted. Usually buffalo wings are pre-fried at a production plant, then fried again at the restaurant. So you have sugar on salt on fat on fat.
Spinach Dip – the spinach is there to provide color and a bit of appeal. Dairy is the main ingredient, combined with high fat and high salt.
Chicken Tenders are so loaded with batter and fat that insiders joke about them being "UFO's: Unidentified Fried Objects." Salt and sugar are loaded into the fat.
White Chocolate Mocha Frappaccino at Starbucks: Coffee diluted with a mix of sugar, fat, and salt. With optional whipped cream.
Bloomin' Onions at Outback: Fried in batter and topped with sauce, for a combination of salt on sugar on fat.
Salads have become a vehicle for eating fat. Creamy based ranch dressing and flavored with cheese chunks, bacon bits, and oily croutons.
Menu Items at the Cheesecake Factory
Tex Mex Eggrolls: Spicy chicken, corn, black beans, peppers, onions, and melted cheese; served with avocado cream and salsa. The avocado alone is high fat, and that's before any mayonnaise or heavy cream is loaded in. A fried outer layer wraps fat around salt and more fat.
Roadside Sliders: Bite-sized burgers on mini-buns, which suggests a cute little hamburger. But, the food consultant said, there's salt and fat mixed in the meat, and sugar and salt in the caramelized onions and ketchup. This dish is fat surrounded by layers of sugar on salt on sugar on salt.
Chicken Pot Stickers: Oriental dumplings pan-fried, served with soy dipping sauce. Frying the pot stickers replaces the water in the wrapper with fat. The layer of meat inside is loaded with salt, while the outside layer of sauce is rich with sugar and salt.
Buffalo Blasts: Chicken Breast, cheese, and spicy buffalo sauce all stuffed in a spiced wrapper and fried until crisp; served with celery sticks and bleu cheese dressing. The food consultant just laughed; that's fat, sugar and salt. The chicken breast allows people to suspend their guilt because it suggests it's a low-fat dish, and the celery sticks hint at something healthy. But the cheese layer is 50% fat and carries a load of salt, and the buffalo sauce adds a layer of sugar and salt. The dough wrapper is fried and so absorbant that it he called it a "fat bomb."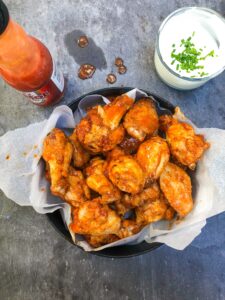 To Sum it Up
Just as chicken becomes the carrier for fat in the Buffalo Blasts, pizza crust can be a carrier for sugar and salt. Caesar salads are built as an excuse to carry fat and salt. French fries are 'double fried,' first at the manufacturing plant and then at the restaurant. Burgers are layered with bacon and cheese. Cheese is added to spinach, batter added to fish before frying it, and Mexican food slathered with cheese.
Each one of these foods "becomes more compelling; more hedonic," said the consultant. He referred to the food industry as "the manipulator of the consumers' minds and desires."
(My Note: The same principles apply to the processed foods that line our store shelves and freezer cases!)
You are the Target
Dr. Kessler points out in the book's Introduction that there's no shortage of people who lack control in the face of highly palatable food. Food has the power to fixate and control people because we've been conditioned by cues that focus our attention, promote anticipation, and build desire.
He points out that the food industry has been remarkably successful at designing foods to capture people. Food manufacturers, food designers, and restaurant owners may not fully understand the science behind the appeal of their foods, but they DO know that sugar, fat, and salt SELL. As surely as if wearing a bull's-eye on our chests, we are the industry's targets.
*********************************************************************************************************
So take comfort my friends….overeating and being overweight may not be your fault! Perhaps you've fallen prey to the Salt, Sugar, and Fat trap that plagues the majority of Americans, most often without their knowledge.
But now you know better. 
Take action to free yourself from the grip! As mentioned above, I'm not sure what the book prescribes, but I do know that there's a way out. If you'd like to have a complimentary coaching session, please watch my webinar and then schedule a call. I'd be delighted to talk things over and create s plan, or at least a starting point!
Restaurants don't HAVE to be totally off limits…but their main offerings sure do.
And beware, because even vegan foods at a restaurant can be loaded with salt, sugar, and fat.
Check out my video on How to Eat Out.