We tried a few new recipes recently, and here are the keepers!
This recipe from Brand New Vegan.com is very tasty.  The 'chicken' is actually battered and baked cauliflower bites, and the thick orange sauce is easy to prepare.  I found it to be just a tad bit time consuming, since there are several separate components (making batter and baking cauliflower, sautéing vegetables, making rice and preparing the orange sauce).  Still, I will definitely make this again; unsalted peanuts and/or water chestnuts would make a nice addition.  Note that the recipe is served over rice (although 'rice' does not appear on the ingredient list).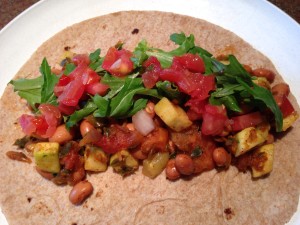 Mexican Style Bean and Rice Casserole
This casserole is delicious as is, but can also be used as a burrito filling (and topped with salsa, lettuce, guac or whatever you prefer).  The  only things I did differently are as follows:  I used a 9×13 casserole (the mixture wouldn't fit an 8×8 pan, as called for);  and I did not use the 'no-cheese sauce' recipe linked to the recipe.  I used an alternate cheese sauce because I had all the ingredients on hand.  Whichever cheese sauce you use, be sure it makes enough for the casserole (which is 2.5 cups).  Also, there are comments on this recipe to cut the zucchini smaller than suggested.
You can also find 'cheese' sauces here (both are tried and true, we enjoy them both):
Easy Vegan Mexican Cheese Sauce
PS – I'd be interested to know if you give these recipes a try!