Do you like spice cake? Then you'll love this easy-peasy, oil-free version by Susan Voisin at the Fat Free Vegan website!
Pear Spice Upside-Down Cake has turned out to be one of our favorites.  Susan's cake turned out much prettier than mine (her sliced pears on top resembled a Christmas tree, mine resembled ……well, nothing but randomly sliced pears!)
You can see her pretty design on the above link.  But here's a photo of how mine turned out: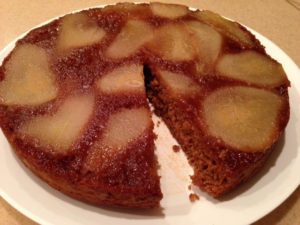 The only thing I noted is that the recipe calls for 3 LARGE bosc pears, and apparently the pears I used weren't large enough. I would recommend buying at least 5 pears since you're going to need 1-2/3 cups of pear sauce in addition to the sliced pears on top. You may even want to buy SIX pears – you can always have the extra as a snack! In any case, if you come up short on the required pear sauce, you can add applesauce until you have enough.
If you give this a try, let me know how you liked it!
May you be encouraged today by God's promise as you trust Him in all things:
But I will bless the person who puts his trust in me. 
He is like a tree growing near a stream and sending out roots to the water.
It is not afraid when hot weather comes, because its leaves stay green;
it has no worries when there is no rain; it keeps on bearing fruit. (Jeremiah 17:7-8, GNT)
What is The 'Plan A' Diet?
And why should you consider it?
Why shouldn't we eat oils?