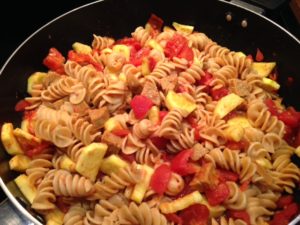 Ready for recipe experiment #2? Recently I  posted that I was in a cooking rut and decided to try two new recipes. Both of them were deemed to be "keepers!" Hubby and I have slightly different palettes, so a "keeper" means it passed both of our taste tests  – and will (hopefully) pass yours, too!The first recipe I shared was called "Spicy Grilled Crab Patties with Aioli" – it was easy and delicious. In case you missed it, you can read about it here. 
The other recipe is for Italian Sausage from the Brand New Vegan website. Oh my, if you are looking to make an Italian Sausage sandwich with marinara, or if you'd like to add sausage to your soups or stews, you'll want to try this recipe. Scroll down on the linked page to find the recipe. You'll notice that it calls for 'vital wheat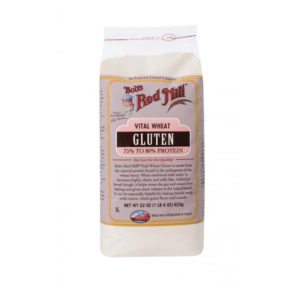 gluten' (can be found at Fresh Thyme in the Bob's Red Mill section) and 'nutritional yeast' (also at Fresh Thyme in the bulk section). These ingredients are also available at Whole Foods and other health food stores as well (or online).
The sausage works perfectly in a recipe called  Ziti with Sausage & and Zucchini  – which has only 4 main ingredients! This is a Golden Oldie recipe from the May 1997 issue of Good Housekeeping. I cut it out back then and still have the yellowed magazine page! After all these years, I was glad to see that it's available online. Of course, I've adapted the recipe to fit our way of eating. Here's the whole food, plant-based version:
Use any whole-grain pasta (or rice pasta if gluten-free). I used whole-wheat Rotini in the top photo.
Cut the above Italian Sausages into small, bite-sized pieces before adding to the recipe. Use as much or as little  sausage as you like. The recipe makes 4 sausages, and I used about 1-1/2 in this recipe.
Sauté the zucchini in a tiny amount of water; do not use oil.
I use diced tomatoes instead of plum tomatoes – just a personal preference.
Faux Parmesan is an excellent topper for this recipe. There are many plant-based versions on line, but here's what I do: In a high-powered blender, add equal parts of cashews and nutritional yeast (maybe 1/2 cup each). Pulse or blend to desired consistency, using caution that it doesn't start to clump. Add garlic powder (or onion powder) and salt to taste. Oats can be used in place of cashews for a lower-fat version. Tweak to your liking.
I'd love to know if you try these recipes!
Summertime means that hot dogs are being sold everywhere. Why should you refrain? 
Recipes, health tips and things you should know: Sign up for our blog and monthly newsletter!
Book in progress: The 'Plan A' Diet: Combining the Healthiest Diet on the Planet with the Timeless Wisdom of Scripture. Would love to share what's happening on the path to publishing, and would love to get your feedback! Sign up for the blog and monthly newsletter above to stay in touch.