For the first time in my entire life, I have baked with rhubarb. Now I'm wondering what took me so long!
Even though it's something I rarely eat, I have always LOVED anything Strawberry Rhubarb (pie, crisp, crumble, whatever). So when I came upon this easy recipe, I decided to finally give it a try.
Distance prevents me from shopping at Whole Foods very often, but I made the trip last week and discovered they had both organic rhubarb (already pre-cut) and organic strawberries on sale. That made the recipe even sweeter!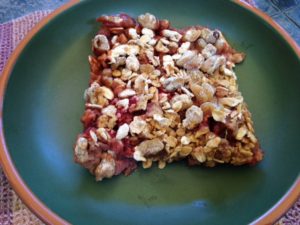 Strawberry Rhubarb Crisp 
3 cups diced rhubarb
1 pound strawberries, hulled and sliced
1/2 cup sucanat (natural cane sugar), divided
1/2 cup plus 2 TBS whole wheat pastry flour, divided
1/4 cup pitted and chopped Medjool dates
1/2 cup rolled oats
1/2 cup chopped walnuts
3 TBS orange juice
Preheat oven to 375. Line a 9×9 pan with parchment paper and set aside.
In a large bowl, combine rhubarb, strawberries, 1/4 cup sucanat, 2 TBS flour, and the dates.
In a separate bowl, mix the rolled oats, remaining 1/2 cup flour, remaining 1/4 cup sucanat, walnuts and orange juice. Evenly spread fruit mixture into pan. Top with oat mixture, spreading evenly. Bake 35-40 minutes until golden brown and bubbly. Spoon into bowls and serve warm.
I used a 9×9 silicone pan, so no parchment paper was necessary. I highly recommend this easy recipe….it's one that's even special enough for company 🙂
He gave plenty to drink to those who were thirsty.
He filled those who were hungry with good food. (Psalm 107:9, GW)
Do you have a favorite rhubarb recipe? Would love to hear about it! Please reply here.