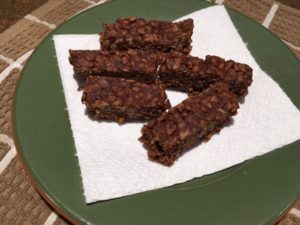 If you're a fan of anything "mint chocolate chip" (as I am!), you'll enjoy this easy No-Bake recipe from Brandi at the vegan 8 website.
No-Bake Mint Chocolate Chip Bars have only 7 ingredients and are a yummy treat to be savored sparingly – a little goes a long way!
The only difference I'll make in the future is to choose a different crisp cereal. The bars didn't turn out as "crispy" as I'd hoped, but still good!
These would make a nice addition to your Christmas Cookie gift plates.