When it comes to America's protein craze, mega-athlete Rich Roll summed it up nicely in an article he wrote for the Forks Over Knives website back in 2014.
Rich Roll was 50 lbs. overweight at the age of 40. After struggling to climb a flight of stairs one night, he did a complete 180 with his diet and lifestyle. He became a dedicated vegan, put on his running shoes, and jumped back into the pool. In only two years, he went from being a couch potato to a recognized world-renowned ultra-endurance athlete. He's the first of only two people to complete five ironman triathlons on five Hawaiian islands in under a week.
To paraphrase Rich's article, the animal protein push is not only based on lies, it's killing us by luring us to feast on low-fiber foods which are high in saturated fat—contributors to our epidemic of heart disease and many other infirmities. He states that protein is indeed an essential nutrient and critical not just in building and repairing muscle, but for other bodily function as well.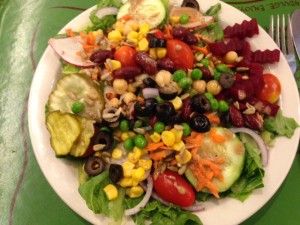 But does it matter if our protein comes from plants rather than animals? He and a long list of other athletes will tell you the same thing: rather than steak, milk, eggs, and whey supplements, opt instead to eat lower on the food chain and source your protein needs from healthy plant-based sources like black, kidney, pinto, and other beans, almonds, lentils, hemp seeds, spirulina, and quinoa. Even eating less-concentrated sources of protein like potatoes, sweet potatoes, and bananas will get you exactly where you need to be.
There is no "special" diet for athletes, but rather the same overall pattern of plant foods—low in protein and fat, high in fiber and complex carbohydrate—but with greater amounts of those foods to support athletic endurance. Google "vegan athletes" and you'll be surprised by how many names you may recognize!
(The above excerpt was taken from The "Plan A" Diet – get more details about the book here.)