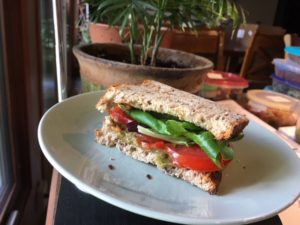 We were pleasantly surprised by this simple sandwich recipe by Emma Roche which was posted in a 2013 McDougall newsletter. I confess it's much yummier than I thought it would be. The combo of avocado spread with fresh tomatoes on whole-grain bread really hits the spot!
Here's the recipe (follow the link and scroll down a bit to find it).
Plus, I had everything on hand to make it (except the avocado, fresh herbs, and scallions!)
So I improvised with what I had. I used guacamole on hand, so I spooned out what I thought would equal one avocado. Instead of fresh dill and coriander, I used dried spices from the jars, and I used red onions instead of scallions.
I also didn't use as much hot sauce as called for, that's up to you!
The garden fresh tomatoes and mixed greens were super on Dave's Killer Bread, which is quite hearty.
If you don't care for avocado, I'm pretty sure ANY of your favorite dips would work well for this – as long as they're not too runny.