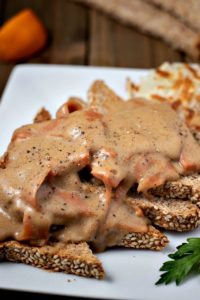 Seeing this recipe online sure brought back some memories! This dish was served regularly during my childhood years, and just as in many other families, was known by the slang name of (spoiler alert, I hope this isn't too offensive): "sh*t on a shingle."
So I couldn't wait to try this recipe for Vegan Chipped Beef on Toast created by Chuck at brandnewvegan.com.
Here's my two cents.
It's relatively easy to make – you probably have all the ingredients on hand. Shaving the carrots into thin strips took a while because I used a mandolin instead of a vegetable peeler, and found it to be challenging. It may have been my novice technique, though.
The creamy gravy is tasty and somewhat reminiscent of the original dish because of the sage and thyme (I say that with the disclaimer that I haven't eaten the meat based version with corned beef for probably 45 years). The carrots weren't "bad" – all four adults who sampled it did like the dish with the carrots.
But I'll try an alternative to the carrots in the future. Perhaps ground seitan (or something similar) and will still spice it according to Chuck's recipe. Of course the dish will have a totally different look, but I think the texture (and possibly the flavor) would be better. Who knows, I may go back to the carrots after experimenting. Overall a thumbs up!
PS: Dave's Killer Bread was used for the toast.