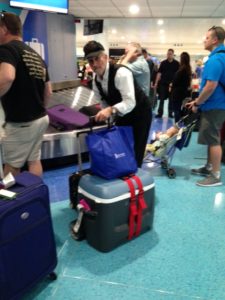 I recently had the opportunity to accompany my hubby to Ponce, Puerto Rico, for one of his annual job assignments.  The trip consisted of a 7-day stay…….his work schedule covered three days, and we arrived a few days early in order to explore and enjoy the area.
Sticking to a whole-food, plant-based, no-added-oil diet can be tricky on the road, and we were concerned about being subjected to 7 days of "iffy" restaurant food.   So we decided to purchase a cooler on wheels  – which could be checked in as luggage – and bring as much healthy fare as we could.   Because there was a Walmart and another large grocery store in the area, the plan was to prepare healthy entrees for the cooler, and 'supplement' them with items from the store.
For example, we packed cooked Pasta, Mexican Black Bean Burgers, BBQ'd jackfruit, and Lettuce Tofu Wrap filling with the intention of buying buns, spaghetti sauce, steamer broccoli and greens at the store;  other entrees in the cooler included Corn Chowder, Layered Bean Casserole, Mushroom Pot Pie, Oat Bran Muffins, Peanut Butter cookies, a few condiments and oatmeal trimmings (nuts, currants, cinnamon, brown sugar);  the store list included instant organic oatmeal, fruit, plant milk, peanut butter, jelly, bread, salad fixings and perhaps some 'steamer' veggies.
Everything was packed in plastic containers (no glass, of course), and other essentials such as ice packs, paper plates and bowls,  plastic silverware, a sharp knife, baggies, a dish wand filled with soap, and a dish towel were also included.  We tightly packed any empty cooler space with towels to prevent the containers from being jostled around.  The weight limit for a checked item is 50 lbs, and the cooler weighed in around 38 lbs.
Here are the PROS and CONS we learned from this maiden voyage of traveling with a cooler full of food:
PROS:
We had just the right amount of food for the trip (including hubby's work lunches) and didn't need to purchase any restaurant food while there.
Having food on hand saved a lot of time which would have been spent searching for compliant restaurants, waiting for the food, etc.  Instead we enjoyed time dining on the balcony overlooking the Caribbean Sea.
Saved lots of money by not eating out.
Peace of mind knowing that we were eating nutritious, heath promoting food with no questionable ingredients.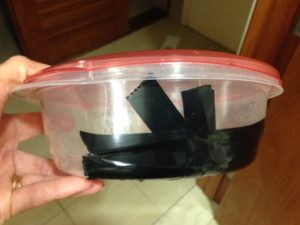 CONS:
I grabbed some whole-grain buns from the garage freezer and didn't realize they were freezer burnt until later.  But we could NOT find any healthy buns in Ponce, so we ate our burgers and BBQ on whole-grain bread.  Not a big deal, but note for the future.
We brought paper plates but neglected to bring a hard (microwave) plate to use as a cutting surface.  Having one would have come in handy for cutting up melon, salad fixings, etc.
Two of the plastic containers were cracked or damaged in the cooler, but fortunately the foods inside were also sealed in zip-lock bags so there was no spillage.
Bring more than one dish towel and dish rag!
Prices at the store were notably higher than at home.  But as my hubby reminded me, we were on an island and everything there had to come by boat.
We're looking forward to next year's visit to this beautiful island – with our cooler in tow!