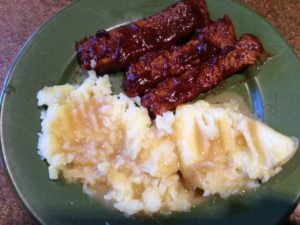 Are you looking for some healthy ribs which are easy to make and oh-so-delicious? Then you won't regret giving Barbecued Seitan Ribz a try!
This recipe from The Fat Free Vegan website is definitely going into the "keeper" file.
Seitan (say-tan´) is another name for wheat gluten, which is a food made from the main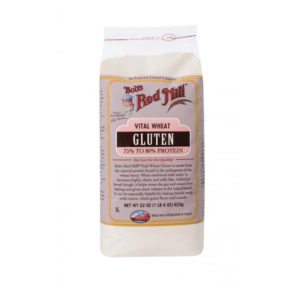 protein of wheat. Also known as "wheat meat," seitan is a popular meat replacement because of its texture and versatility.
Wheat Gluten (or Vital Wheat Gluten) can often be found in your local health food stores (including Whole Foods, Fresh Thyme, the Fruitful Yield, etc) or you can easily purchase it on line. Bob's Red Mill is the brand I use, but some stores may carry it in bulk.
The recipe makes 16 ribz, so you may want to double it. Four ribz are considered a serving (and one serving has nearly 28 grams of protein!) Of course, it's impossible to be protein-deficient while eating a whole food, plant-based diet, but just one serving of this recipe could provide about half your daily requirement.
The recipe calls for Smoked Spanish Paprika, but I just used regular Smoked Paprika, which I bought at Berkots in the produce section. Also, instead of grilling, I chose to bake this recipe as outlined in the directions – but I'm sure they'd be awesome grilled, too.
If you serve with smashed potatoes and gravy, try this Golden Gravy Recipe by Mary McDougall! Add a salad or a cob of sweet corn and you're all set!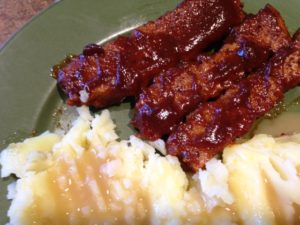 Why is it best to avoid grilling meat? 
Where do you get your protein?
Need help eating healthier? Contact me.