While purchasing my groceries at the check-out line recently, the cashier made the two following comments:
 As he scanned and examined a bag of lentils, he actually asked me if this was a food we eat for lent (seriously).  I explained what a lentil is……he had obviously never heard of them.
Upon finishing the scanning of my groceries, he commented "boy, the only thing fattening you have here is that bag of potatoes."  I politely remarked that potatoes aren't fattening, but when he made another similar comment, I explained that it's the TOPPINGS that make potatoes fattening, not the potato itself.  I don't think it sank in.
His comment about potatoes led me to shed some light on the poor little potato, often blamed for everything from being a dreaded, fattening carb to having too high of a glycemic index.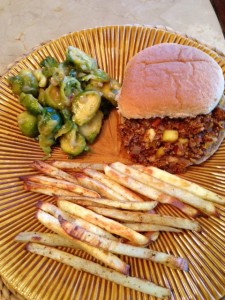 Both potatoes and sweet potatoes are nutritious and delicious tubers which can be made into awesome main entrees or side dishes.  And both fit into a healthy diet no matter if your goal is weight loss, health improvement, or both.   And yes, potatoes are SAFE for diabetics; in fact, a whole-food, plant-based diet including starches is able to REVERSE Type 2 Diabetes in a short amount of time.
Complex carbs such as potatoes are the body's main source of energy, and our brains also depend on such carbs (remember, there's a BIG difference between complex carbs such as whole potatoes verses refined carbs such as French fries and potato chips).
It's a common misconception that starchy foods such as potatoes are fattening…… people often believe that the sugars in starches are readily converted to fat, which is then stored in our bellies, hips and butts.  But while it's true that complex carbs break down into simple sugars, these sugars are absorbed into the blood stream and transported to trillions of cells throughout the body for energy.
Some reasons why potatoes aren't fattening (from Dr. McDougall's newsletter):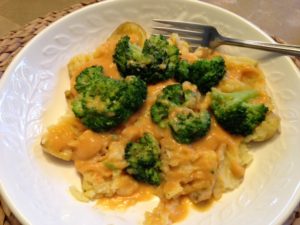 1)  Don't Be Dense.  Potatoes are at the bottom of the list of calorie dense foods, at one calorie per gram.  By comparison, sugar, cheese, and beef are about 4 calories per gram and vegetable oils are 9 calories per gram.
2)     The Fat You Eat Is the Fat You Wear.  Potatoes are 1% fat – so there are virtually no fat calories to wear.  (By comparison beef and cheese can be 70% fat and butter is 100% fat).
3)     Carbohydrate Satisfies the Hunger Drive.  Potatoes are at the top of the carbohydrate list with about 90% of the calories from appetite-satisfying carbohydrates.  (On the other hand, beef, fish, chicken, butter, and olive oil are a few examples of commonly consumed foods with no carbohydrates).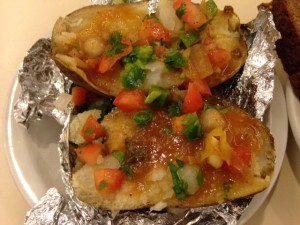 Of course, all bets are off if you top your potatoes with butter, margarine, sour cream, oil, cheese, bacon bits or other added fats.  It's those high-fat toppings which contribute to the increase in heart disease, diabetes, arthritis, dementia and other chronic disease – not the potato itself!  Fortunately, there are many healthy toppings you can choose, such as salsa, soups, chilies, dressings, low-fat guacamole, or this delicious Golden Gravy.
There are hundreds of healthy potato recipes out there……here are just a few of our favorites:
Fat-Free Cheese Sauce  – great for Cheesy/Broccoli Baked Potatoes!
Sweet Potato Broccoli Cheese Soup
Sweet Potato and White Bean Curry Soup
Cocoa Black Bean Chili with Roasted Potatoes
Boiled Yukon Golds topped with Mushroom Gravy
Bottom Line:  Potatoes are a nutritious, satisfying comfort food which contain vitamins, minerals, fiber, anti-oxidants and phytochemicals (with no cholesterol or fat) – and we can enjoy them freely when they are prepared correctly without the added junk.
Pass the gravy!