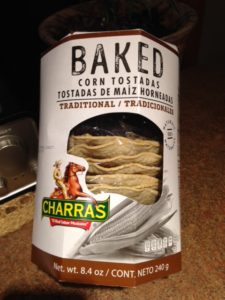 Are you craving a crunchy taco?  I sure was, but I had given up searching for crispy taco shells years ago since most store-bought shells contain lots of oils.  And I although I could bake my own shells using the small corn tortillas, I decided to once again peruse the grocery shelves to see what's out there.
Then I stumbled upon these Charras oil-free, baked corn tostadas in the ethnic section of the grocery store.  Oh. My. Goodness.
These baked corn tostadas are incredibly yummy and so versatile!  You can top with your own mixture of rice/beans; or sautéed burrito spiced veggies; or make incredible nachos with Mexican Cheese Sauce; or break into chips for use with your favorite guacamole or salsa recipes.
One of our new personal favorites is to top a crispy tostada with: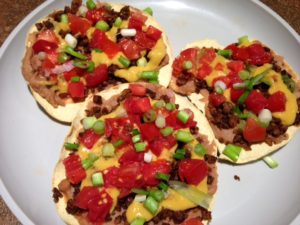 Fat free refried beans (any variety, just be sure they're oil-free).  Spread as thick as you wish.
Add 1-2 TBSP of Taco Meat  (see note)
Drizzle a bit of Fat-free Mexican Cheese Sauce
Add chopped tomatoes, green onions, shredded lettuce.  Oh, and jalapeno if you like the heat.
Your favorite taco sauce (optional)
(Note:  For the taco meat, I used 3 cups of "riced cauliflower" that I purchased in the frozen section of Walmart, 4 oz. mushrooms, and 1 cup of walnuts, along with the spices as shown in the link).
So far I've seen the Charras Baked Tostadas at Fresh Thyme and at certain Walmart stores; they're reasonably priced between $2.20 – $2.70 a package.
I'd love to hear some of your ideas or see a photo of what you create!