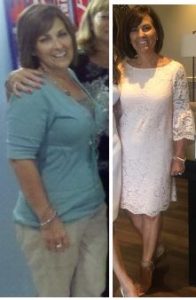 (Written by Linda Z): The transformation to a whole food, plant-based diet has not only helped me to lose weight and boost my health, but it has also diminished an autoimmune disorder that I was diagnosed with called Hailey and Hailey Disease. Hailey and Hailey is a rare skin disorder that affects the skin—there is something missing genetically that causes the dermis of the skin to blister, become infected, cause lesions, and eventually cause a topical yeast infection. I would have extreme bouts of this disorder that would inflame my skin and cause serious pain…..
Read the rest of her story (including the other benefits) here.
I'm never ceased to be amazed by the healing power of a whole food, plant-based diet! Thank you, Linda, for sharing your story. You are a walking testimony to what a diet change can do!