If you're like me, you might have a file folder (or computer file) labeled "Recipes To Try".  Well I went into the folder this week and decided to make three recipes from Chuck at the "Brand New Vegan" website.  Here's how they turned out:
Creamy Fat Free Macaroni and Cheese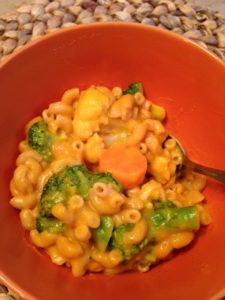 The 'cheese' sauce for this recipe is really good.  The base of the sauce is potatoes and carrots, and as Chuck points out in the recipe, it's creamy, cheesy and decadent.  I agree!  The recipe calls for a bag of frozen veggies to be stirred in at the end of the pasta boiling time, but instead I bought a bag of carrot/broccoli/cauliflower steamers, microwaved them, and stirred them in after the pasta was drained.  The nice thing is that you can add it whatever veggies you want!  Also, I did not have brown mustard on hand, but used Dijon and it worked fine.  NOTE:  The cheesy sauce recipe does make more than you'll need, so you can either make additional pasta, or save the extra sauce for potatoes, nachos, or wherever you like to eat cheese sauce!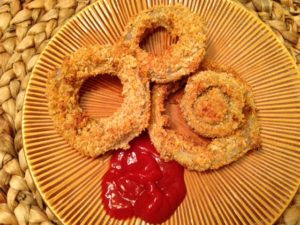 I've been craving some really good onion rings, so when I saw this recipe in the "To Try" file, I quickly pulled it out and decided today's the day.  I followed the recipe pretty much to the tee (except that I forgot to cover the onions while they were soaking in the fridge for an hour).  I'm not sure if that mattered, I'll find out next time I make them.  In any case, these turned out really well, and yes they are crispy!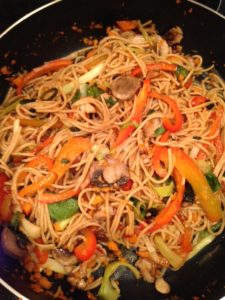 I typically haven't chosen Lo Mein dishes in the past when we ordered Chinese….but this recipe looked like an interesting comfort food and I had almost everything on hand.  One item I had to purchase was "chili garlic sauce", and I'm not sure if I used too much, but it proved to be a bit too spicy for my delicate palate.  I can tolerate a little heat, but this one made me break into a sweat; again, perhaps I added too much.   I was also expecting a sweeter tasting sauce, but I'm not sure why since I've never ordered Lo Mein!  The recipe calls for only 1 tsp. of brown sugar, which should have been a clue.  Anyway, I added a little "sweet chili sauce" to my own plate which made mine a bit sweeter (but still very spicy for me).  This is a great recipe, I just need to tweak the sauce by cutting back on the chili garlic sauce.  My advice is to start with just a little and add as you go.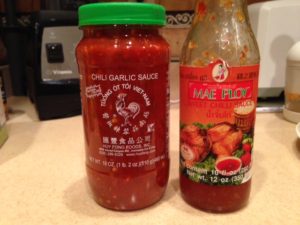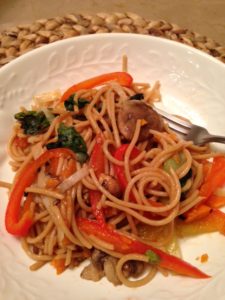 I also used mixed greens instead of spinach, just because I had the mixed greens on hand.
Lastly, I found both the Chili Garlic Sauce and the Sweet Chili Sauce in the Asian section at my local Walmart.
Have you tried any new whole-food, plant-based, oil-free recipes lately that you feel are "keepers"?  If so, we'd love to hear about it!
OUR NEXT POTLUCK:  If you live in the area of Wilmington, IL, we're hosting our next "World's Healthiest Potluck" on Friday May 12, 2017.  More details can be found here.   (Seating is limited.  RSVP's are requested, and the deadline to reserve a spot is Sunday May 7).
Dear friend, I pray that you may enjoy good health and that all may go well with you, even as your soul is getting along well.  (3 John 1:2)