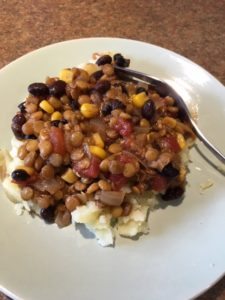 Thanks to my sister-in-law for recommending this recipe! Black Bean Lentil Taco Soup by The Garden Grazer is a definite "keeper" that is super easy to prepare! Top with avocado, green onions, or tortilla strips for a little something extra.
Becuase this soup is hearty and thick, it also makes a great potato topper! Boil and mash a few Yukon gold potatoes and top with this soup for a satisfying, delicious, starch-based meal which not only fills you up, it also provides ample protein, calcium, fiber, and all those lovely nutrients which our bodies need for good health.
Let me know how you like it!