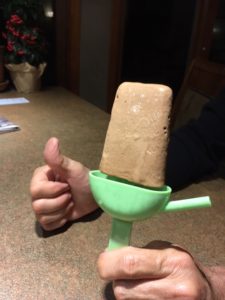 As kids, our nickname for Fudgesicles was "Fudgies." They're basically fudge popsicles – cold, creamy, and chocolatey. What could be better?
How about a healthy version!
I was excited when a friend posted this Fudgesicle recipe by Dreena Burton on facebook, because I like her recipes and I had a feeling her fudgies would be delicious.
And oh yes, they are! Hubby also gives them a definite thumbs up.
The only drawback was my popsicle molds, which are made of hard plastic. It was difficult to remove the fudgies without the stick pulling out first. So I had to run them under warm water, which is why the fudgie in the photo looks partially melted.
Time to invest in some silicone popsicle molds, because this recipe's a keeper!
The "Plan A" Diet – Kindle version available July 2, 2019! Order today 🙂