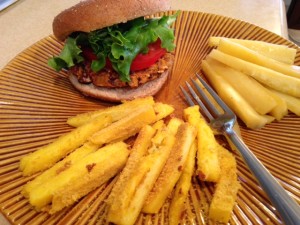 Happy Easter everyone!  I hope you are celebrating this Superbowl of all Christian holidays!  The resurrection is the crucial event we hang our hats on, and to that we say "Amen – He is risen!"
After a great service today at church, our Easter dinner consisted of grilled Curried Sweet Potato Burgers, Polenta Fries, and Pineapple Parsnips.  For the fries, I tweaked the recipe from the Engine 2 website; I simply opened a tube of organic polenta (found in most produce sections), cut it into thin "fries", and spread them on a silpat-covered cookie sheet (or you can use parchment paper).  Drizzle with fresh lime juice and sprinkle generously with nutritional yeast for a cheesy flavor.  Also sprinkle with Mrs. Dash spice blend to your taste (optional). BAKE at 400 until the edges are golden (about 15 minutes on each side).
The parsnips are just cut into thin strips, placed in an 8×8 baking dish, covered halfway with 100% pineapple juice and baked for about an hour at 350 (until they're tender when you pierce with a fork).  You may sprinkle them with a little salt, pepper and even sucanat (dried sugar cane) if desired.