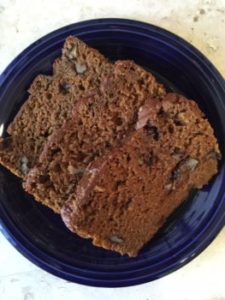 In my kitchen, pumpkin bakery isn't just for fall weather – I love it anytime!
So while searching through my 'bread' folder, I came upon this recipe I had printed back in 2010. The time to make it was obviously overdue!
Oil-Free Pumpkin Bread, by www.fatfreevegan.com, was simple to make and I must say it was the most flavorful and moist pumpkin bread I've ever baked (the pumpkin was noticeably prominent and yummy).
The recipe calls for "egg substitute equivalent to two eggs." I made flax eggs. One TBS ground flax and 3 TBS water, blended or whisked until frothy = 1 egg. (So for this recipe, I used 2 TBS ground flax and 6 TBS water, whisked.)
I also used whole wheat flour, and added about 1/2 cup walnuts.
Give this one a try. It's an official "keeper" in our house, and would probably make great muffins, too!